The governing body of South American soccer has awarded Brazilian club Chapecoense, which lost most of its players in an air crash last week, the Copa Sudamericana championship.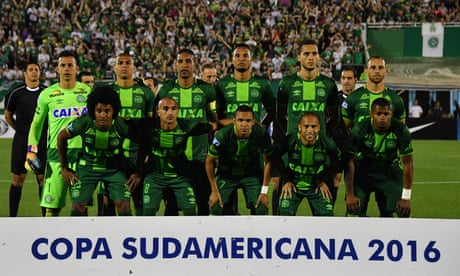 In a statement on Monday, CONMEBOL said it awarded the title "as a posthumous homage to the victims of the fatal crash that leaves our sport in mourning."
It said the decision was reached after directors of Atletico Nacional, the club side billed to play against Chapecoense, asked it to award the Brazilian side the title.
CONMEBOL also awarded Atletico Nacional its Fair Play award.
Nineteen of Chapecoense's players were killed in the crash just outside Medellin, Colombia, as the team headed to the first of two matches against Colombian club Atletico Nacional to determine the champion of the Copa Sudamericana — Latin America's No. 2 club tournament.
As the winner, Chapecoense qualifies automatically for next season's Copa Libertadores, the continent's top tournament.
This also means that Chapecoense will face Atletico Nacional — the defending Copa Libertadores champion — in an emotion-charged two-game series next year between the continent's two club champions.
Chapecoense is likely to field a team next season of borrowed players from other clubs.
A chartered plane carrying top-tier Brazilian soccer team Chapecoense to the biggest game in its history crashed in the Colombian mountains, killing over 60 people on board.